Roast Beef With Ginger And Rosemary
Brian Hall, of Fast Days Healing Days, takes the fear out of roasting meats. Find out why beef eye of round makes great Fast Day (FD) roasts. Low in calories with robust flavor, beef eye of round roasts quickly and plays great with either fresh or dried herbs. Fast Day (FD) leftover roast makes great lunches.
People tend to get intimidated by big hunks of meat, like roasts. But our mothers and grandmothers knew that roasts were an easy way to feed a family, provide leftovers for lunch the next day and economize. Roasts are usually cheaper than steak cuts. Beef eye of round—available as a roast and also often cut into steaks or tenderized cutlets known as cube steaks—is an excellent roast to eat on Fast Days. It has good flavor and is very lean. Beef eye of round can be tender when sliced thinly and served rare to medium-rare, and is easy to prepare. It is crucial to use a meat thermometer!
We bought beef eye of round at one of the wholesale clubs the other day. It was about $3.49/lb and we got a little over 6lbs from the roast. It's easy to cut it into 2 portions—making 2 roasts. Each roast makes 8-10, 3-5 ounce cooked portions (about $1.04-$1.31 per serving).
To preserve the second roast, wrap it tightly with plastic wrap, sealing out as much air as possible, then place it in a ziplock bag in the freezer. Again, take out as much air as you can. The plastic wrap and freezer bag help protect the meat. You can also use a Food Saver vacuum bag to freeze the 2nd roast.
When choosing a roast, look at the ends of the roast to see if there is any gristle. Pick the roast with the largest, uninterrupted muscles and has the least gristle. When muscles intersect in meat, there is connective tissue and this tissue or silver skin can cause toughness (like rubber band chewiness). Gristle is just plain terrible. Look for deep, rich color and if it has fine flecks of white in the meat, that just means it has more internal fat, called marbling. Most beef eye of round isn't very well-marbled. It's lean.
On non-fast days, replace the eye of round with a more heavily marbled, fattier cut of meat such as a chuck roast, or even a standing rib (rib eye) roast if your budget can handle it. These cuts work better on feast days because they are higher in calories. It's harder to enjoy them on Fast Days (FDs) simply because you have to eat a smaller portion and it might not fill you up.
Roast Beef With Ginger and Rosemary was inspired by Jamie Oliver's steak with ginger and rosemary. It's a terrific combination and not one you would ordinarily imagine tasting great when combined. Make sure to remove the roast it reaches 125° at the thickest part. Take it out of the hot pan to a cold plate or cutting board. The temperature will still rise to about 130°, but that will help keep it from drying out and overcooking.
Enjoy!

Roast Beef With Ginger And Rosemary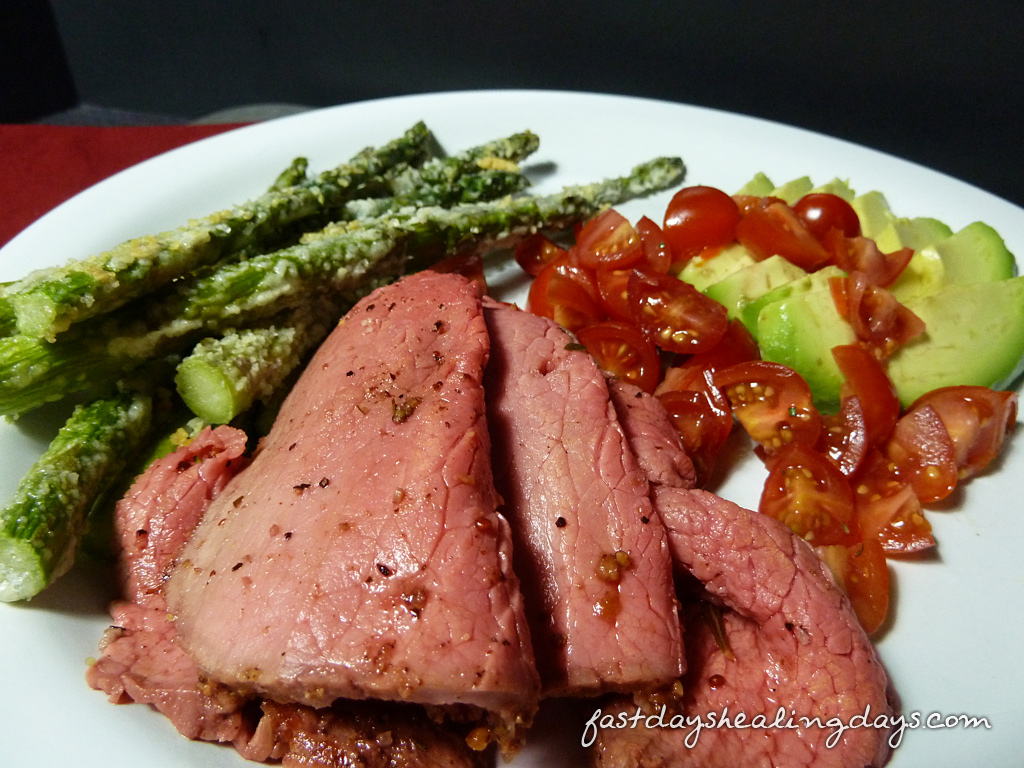 Roast Beef Eye of Round With Ginger and Rosemary makes delicious and easy Fast Day (FD) dinners and creates enough leftover meat for lunches.
Ingredients
Roast
3 pounds beef eye of round roast, trimmed to 1/8-inch fat—or your favorite cut or lean roast
4 cloves garlic, peeled and chopped finely or pressed
3 tablespoons ginger root, grated
3 tablespoons fresh rosemary leaves, chopped
Pan Gravy Optional
1/8 cup dry vermouth—or dry white wine
sea salt
fresh ground black pepper
Instructions
Heat grill on the highest setting. Season roast with sea salt. Sear over direct heat 2 minutes per side (4 sides + 2 ends=6 sides). For each side, cook 1 minute with the lid down and 1 minute with the lid up. Remove meat and rest 15-20 minutes off the heat while preparing the seasonings and rub.

Rub on garlic and ginger. Smear on Country Dijon—a pastry brush makes this easier with less mess on your fingers! Sprinkle with Worcestershire sauce. Sprinkle with chopped rosemary and a little more kosher or sea salt. Cover in coarsely ground black pepper (freshly ground if possible). Drizzle with olive oil.

Stick a meat thermometer into the center of the thickest part of the meat. Place meat into a small roasting pan. Bake at 225° for about 45 minutes to 1 hour, or until thermometer registers 125°. Remove roast from oven and place onto a cool pan. Rest meat 10 minutes to redistribute all the juices. Don't poke it or remove the thermometer or the juices will leak out all over.

Slice meat as thinly as humanly possible! Enjoy.
Notes
Don't be intimidated by roasting a whole hunk of meat. The meat is usually cheaper per pound and it's pretty fool-proof. You don't even need to measure the spices, just add them liberally to your preference. The one caveat is the salt MUST be coarse grain such as kosher or coarse sea salt (not rock salt). Don't use table salt, because the chances are it will turn out too salty. Coarse grain kosher and sea salt have about 25% less sodium than iodized table salt.
It's worth the extra time to brown the meat before roasting, since this beef is cooked to rare. There isn't enough time to fully develop a beautiful crust during roasting. Fully seasoning the meat after browning means the meat browns better and the seasonings and herbs don't burn or fall off the meat while turning.
Serving Ideas Serve with your favorite salad or veggie. Sliced tomatoes and avocado also make a great side.
Nutritional Information
8 Servings Per Recipe (Meat Only): 303 Calories; 15g Fat (45.7% calories from fat); 37g Protein; 3g Carbohydrate; 1g Dietary Fiber; 596mg Cholesterol; 2g Net Carbohydrate
10 Serving Per Recipe (Meat Only): 242 Calories; 12g Fat (45.7% calories from fat); 30g Protein; 2g Carbohydrate; trace Dietary Fiber; 477mg Cholesterol; 2g Net Carbohydrate
8 Servings (Pan Gravy): 18 Calories; 1g Fat (88.8% calories from fat); trace Protein; trace Carbohydrate; 0g Dietary Fiber; 4mg Cholesterol; trace g Net Carbohydrate
10 Servings (Pan Gravy): 14 Calories; 1g Fat (88.8% calories from fat); trace Protein; trace Carbohydrate; 0g Dietary Fiber; 3mg Cholesterol; trace g Net Carbohydrate
http://www.fastdayshealingdays.com/roast-beef-with-ginger-and-rosemary/
Copyright © 2016 Fast Days Healing Days. All rights reserved.

Copyright © 2014 Fast Days Healing Days. All rights reserved.