Sambucus is a great winter nutritional support. Made from black elderberry concentrate, Nature's Answer Sambucus is the original maker, and formulates one of the most concentrated extracts available.
Nature's Answer Sambucus – The Original Black Elderberry Extract (Sambucus nigra L.) 5000 mg
One of Fast Days Healing Days favorite immune-building supplements. The dark blue-black berries of the black elder are reputed to have natural anti-viral properties making it a perfect nutritional supplement during the cold winter months of cold and flu season.
High in Rutin, Quercetin (flavonoids of Vitamin C) and Anthocyanins (powerful anti-oxidants), this extract contains one of the highest concentrations (5000 mg) of black elderberry extract per teaspoon. It has a long-running history of supporting health, boosting the immune system, and having an excellent safety record.
There are many sambucus/sambucal extracts on the market. Many elderberry extracts have a very low concentration of the actual extract and are sweetened with HFCS or sorbitol. The effectiveness of the extract depends on having a high concentration of elderberry. Nature's Answer, the orginal black elderberry extract only contains black elderberry extract, vegetable glycerin, purified water and citric acid.
Notes: When Brian and I first feel a cold or flu coming, we immediately turn to Sambucus. We call it "eukenuba"—our secret weapon against viruses and bugs. In fact, we take 1 teaspoon daily during the cold/flu season and give ourselves a boost or two prior to going out among people we know are sick. We can't say it's for you. But it is for us! It helps reduce the duration of our colds by about 2-4 days and sometimes will nip them out completely before they even have a chance to take hold.
There are two sizes—4 fl ounces and 8 fl ounces. We keep two bottles of the 8 fl ounces on hand at all times, because we never want to be without it. Between Sambucus, Vitamin D and Magic Elixir, we have colds covered!
Be sure to check with your doctor prior to trying any supplements or natural remedies, especially if you have underlying health conditions or are taking medications.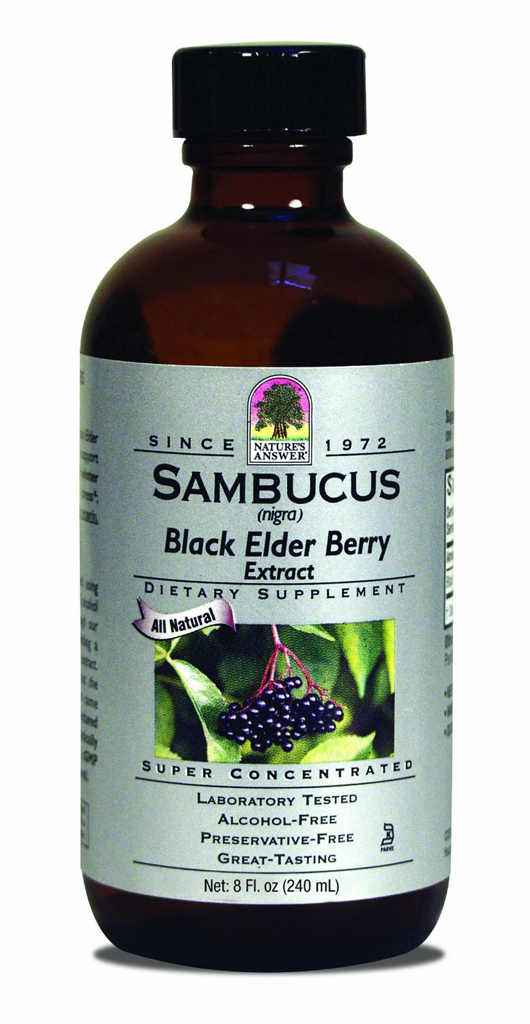 Buy Now! 4 fl. oz.
Buy Now! 8 fl. oz.