How many of you IFer's and 5:2 folks will have their Fast Day (FD) falling on Valentine's Day? Don't fear the Fast Day! Especially now that Brian Hall of Fast Days Healing Days brings you a light, easy—yet sophisticated—Fast Day (FD) Valentine's Day meal that will leave your special girl or guy, wow'ed and woo'ed. This is dude-food loved as much by dudes as the women who love them.
When you're just beginning your intermittent fasting lifestyle, it's natural to fear holidays or at least tread them a bit warily. You can either flip your days so the holiday falls on a feast day (non-fast day). I'll explain how in another post. Or you can power through and make a Fast Day (FD) meal on that holiday—making it so terrific your non-fasting friends would feel blessed to eat it.
Lucky for us, there are so many delicious alternatives for Fast Day meals and recipes that it's possible to have a celebration dinner, such as Valentine's Day, while holding true to your Fast Day (should you make that choice). Susie T. and I treat celebration or "true feast" dinners just like any other FD. We make a great meal, keep it relatively simple and clean and enjoy.
On Valentine's Day, most people don't really want to have a heavy meal, anyway. It's possible to enjoy this Beef Carpaccio with a light Spring Greens Salad and Susie's homemade, near-zero, Dijon Vinaigrette for very few calories and still have enough left over for a glass of dry red wine or a sparkling white wine spritzer and a chocolate dipped strawberry or two for dessert. You might even want to venture out and try Susie's T's Asparagus Soup available on Fluffy Chix Cook (since it can be enjoyed on a Fast Day or an UD or non-fast day), or a light soup of your choice. Fast Days Healing Days will bring you our Tomato Basil Soup recipe soon and it works great with Beef Carpaccio, too.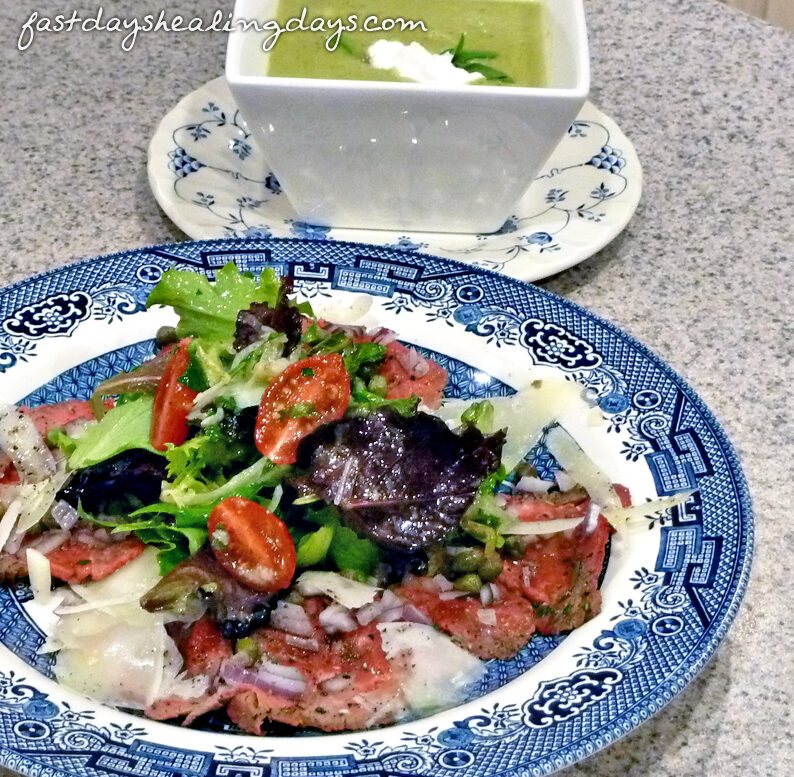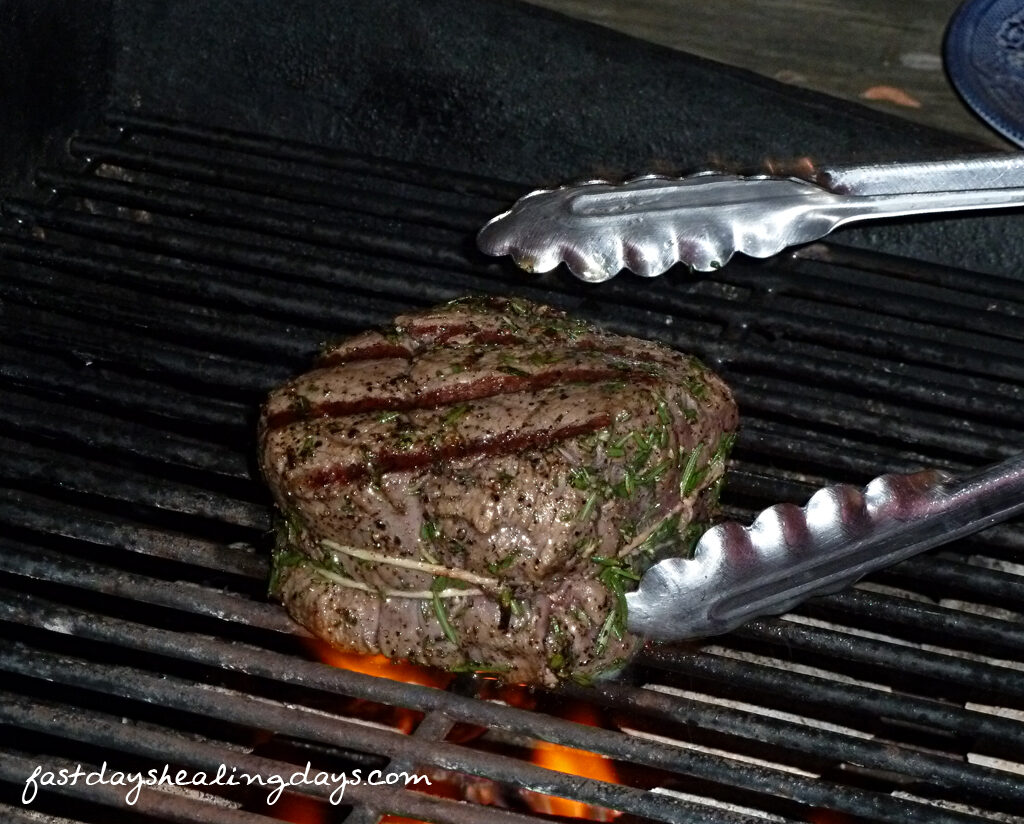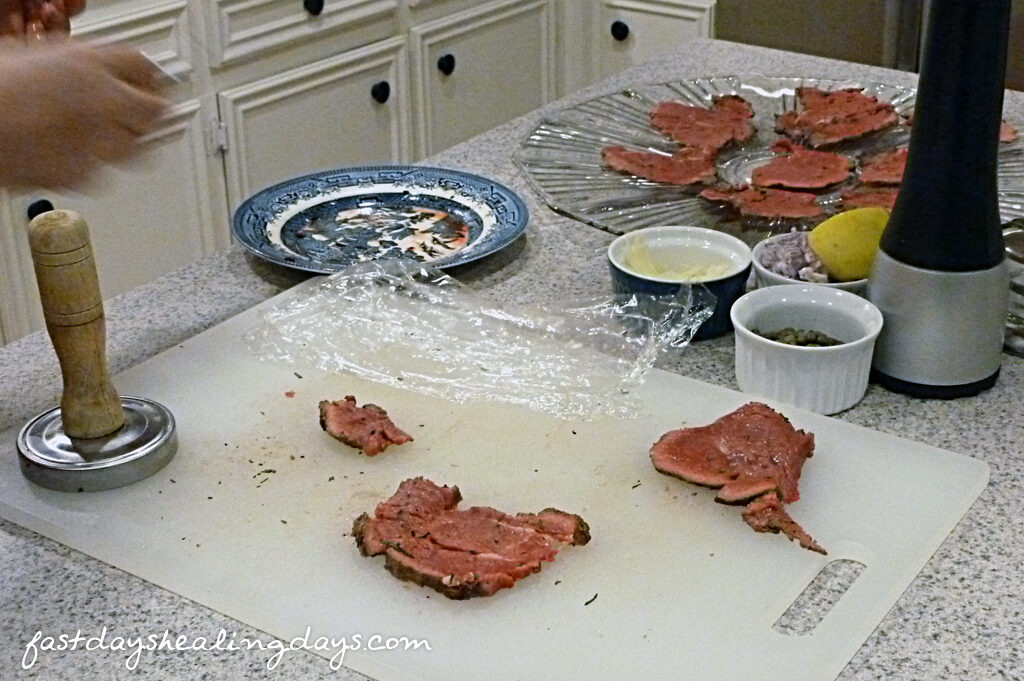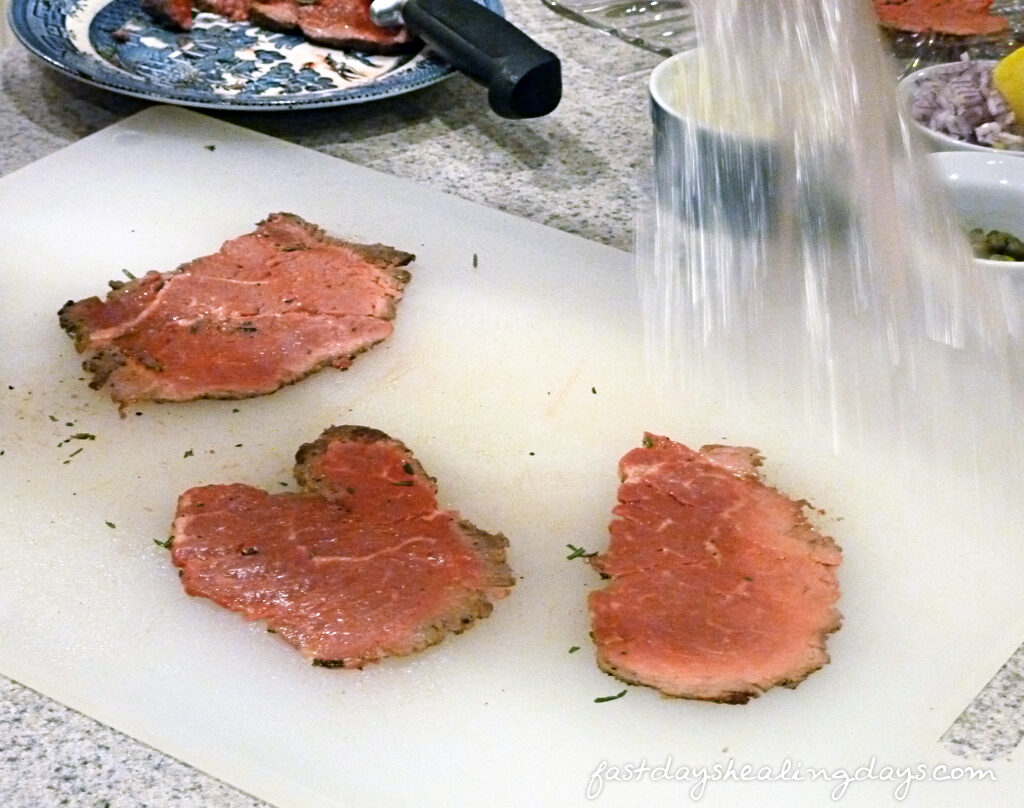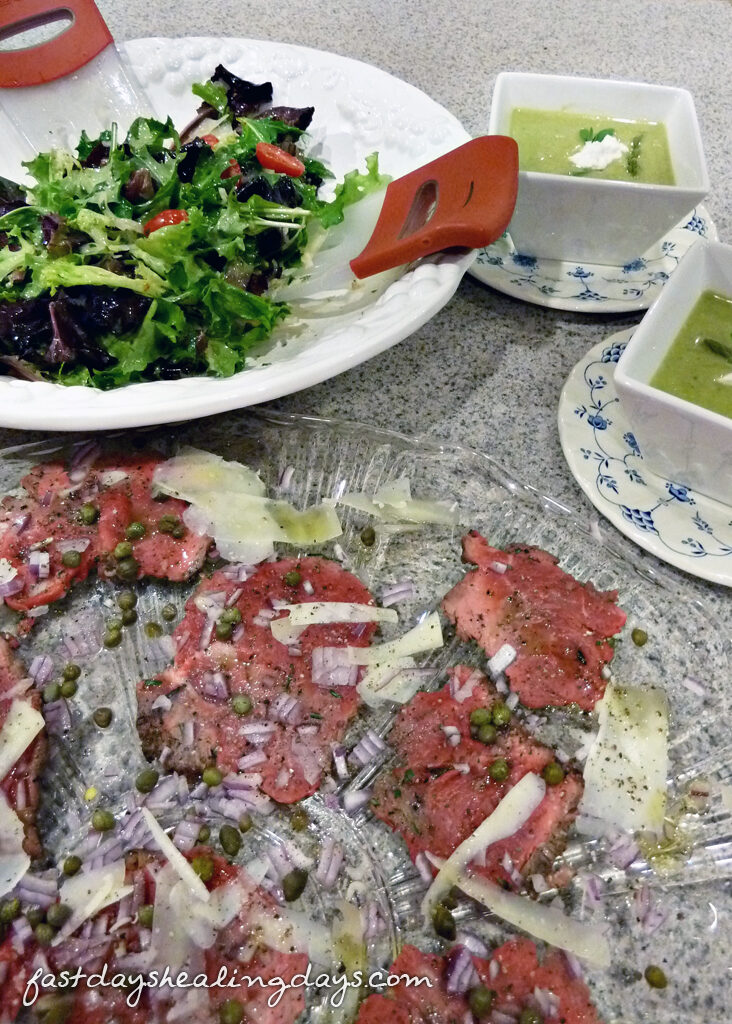 Over the next couple of days, we'll be sure to get those recipes to you, so you can enjoy a light and satisfying Valentine's Day Fast Day (FD) meal, too.

Fast Day Valentine's Day Dinner – Beef Carpaccio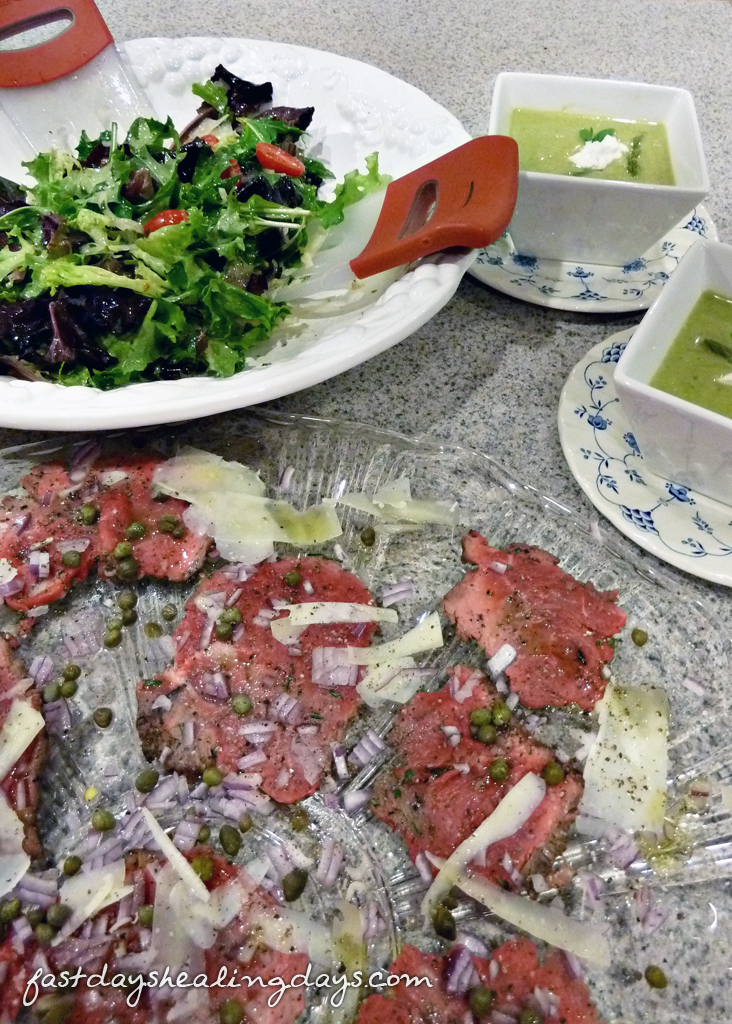 Fast Day Beef Carpaccio cooks in minutes and looks like you took all day, instead of about 20 minutes! Satisfying, hearty without being heavy, Dude food for everyone.
Ingredients
1 pound center cut beef tenderloin, trimmed and whole (tied if possible)
2 clove garlic, peeled and chopped or pressed
1 tablespoon fresh rosemary, chopped—or 1/2 tablespoon dried, crushed
3 tablespoons red onion
4 lemon wedges
Instructions
Season the chunk of tenderloin with finely minced or pressed garlic, chopped fresh rosemary, sea salt and lots of freshly ground black pepper. Sprinkle with Worcestershire sauce and drizzle with 1/2 tablespoon olive oil.

Preheat grill on ignite for 5 minutes with the lid down. Grill tenderloin 1-1/2 minutes per side (4 sides) on ignite, alternating lid down and lid up on each side. Remove and rest 15 minutes. Slice into 3/16 - 1/4-inch slices. Place each piece between 2 sheets of loose plastic wrap. Use a meat pounder or the bottom of a small, heavy sauce pan, and gently pound from the center to the edge until paper thin—about 1/16-inch thick. Refrigerate thin Carpaccio (still between the two sheets of plastic wrap) until ready to serve.

When ready to serve, gently peel away top sheet of plastic. Flip Carpaccio so exposed meat is to the plate and peel away remaining top layer of plastic. Garnish with fresh cracked black pepper, sea salt, chopped red onion, capers, and shaved Parmesan cheese. Drizzle with remaining 1 tablespoon olive oil and serve with a wedge of lemon. Enjoy.
Notes
This dish looks very intimidating but is so danged easy to make it's funny! Carpaccio makes a perfect light meal for Valentine's Day or any romantic or special evening. We love to serve it with a simple mixed green salad and a cup of our favorite soup. Because you need a large enough piece of meat that you can brown it on the outside, while leaving it rare inside, this recipe will serve 2 people with leftovers or will serve 4 people. It's still going to be cheaper (beef tenderloin is expensive), than going out for Valentine's—plus you won't have to cope with a 2 hour wait at a restaurant. And the plus side will be that she'll feel treasured when you cook dinner for her.
Serving Ideas Serve with a simple green salad and a soup if desired.
Nutritional Information
274 Calories; 16g Fat (52.9% calories from fat); 29g Protein; 3.5g Carbohydrate; 0.5 Dietary Fiber; 68mg Cholesterol; 3g Net Carbohydrate
http://www.fastdayshealingdays.com/fast-day-valentines-day-dinner-beef-carpaccio/
Copyright © 2016 Fast Days Healing Days. All rights reserved.

Copyright © 2012 Fast Days Healing Days. All rights reserved.