DocP comes forward with another winning Fast Day (FD) recipe. Her quick and easy super, chocolaty Fast Day Chocolate Protein Pudding is amazing and only 35 calories per serving. Learn how you too can enjoy dessert on your 500 calorie, alternate day fasting program.
We're programmed to believe that desserts are "forbidden," or "clandestine" treats we should only enjoy on special occasions. I see this in my practice every day, especially those with food addictions and disordered food patterns. Often, we think the more virtuous and barebones our diet is, the greater the reward–equating dietary restrictions with virtuous behavior. We hold dietary virtuosity in higher esteem and as more rewarding than the taste of the "forbidden pleasure," such as dessert. And if you fail and succumb to the signals from your brain, what then? Do you fail your diet or lifestyle? Are you "less" or "weak" because of succumbing to the powerful signals from our limbic system (primitive pleasure center of the brain)?
But Fast Days Healing Days has a different approach. We think white knuckle dieting only succeeds long term, in very rare instances. Most of us, 95% or greater, are doomed to fail (or so says the dieting statistics). We think those statistics can be radically changed by removing deprivation and "willpower" from the equation. It's all in re-programming, sometimes re-learning how to interact with food.
Fast Day Chocolate Protein Pudding is a perfectly virtuous fast day or alternate day fasting dessert. It's filled with high-quality protein, can be made super-quick, and gives you the reward of the rich, chocolate, creamy mouth feel we seek when we're craving chocolate pudding. Because it's filled with protein, it leaves you satisfied and replete instead of hungry and snooping for the next sweet fix. Additionally, the naturally occurring ingredients in cocoa are thought by many to have anti-cancer properties. And for only 35 calories per 1/2 cup serving, it's workable with most Fast Days (FDs).
(Note: Just a quick mention about soy. Most soy in the US comes from GMO plants (genetically modified plants). It's very important to us to eat only non-GMO, organic, soy products. And further, if you have, have had, or are predisposed to hormone positive cancers (ie breast, prostate, colon), it's better to avoid soy completely because at this time, the studies are not clearly defined whether soy has an anti-cancer effect or promotes cancer growth in hormone positive cancers. Also, if you have thyroid issues or Hashimoto's auto immune disease, you may also choose to avoid soy in all forms.)
Fast Day Chocolate Protein Pudding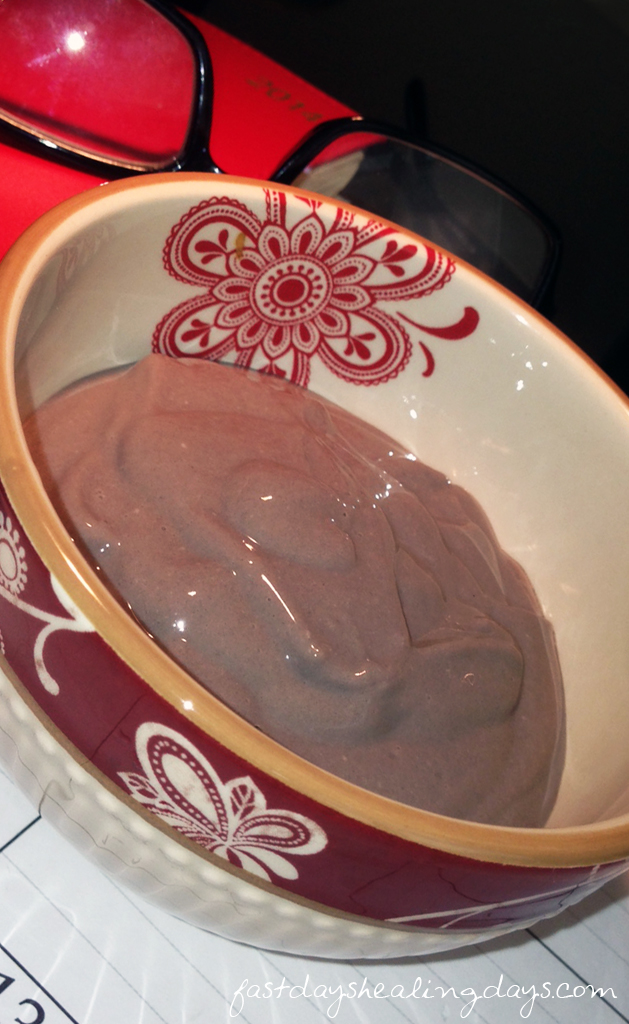 This rich, Chocolate Protein Pudding makes a filling alternative to high carbage, sugar-filled, puddings--for Fast Days (FDs) or UDs, alike. All the pleasure, none of the guilt or misery.
Ingredients
2 tablespoons boiling water
liquid sugar equivalent to taste
Instructions
Drain one box of light silken tofu (Mori-nu preferred). Dissolve cocoa powder in 2 tablespoons of boiling water. Stir cocoa until smooth. Pour into tofu. Add sweetener to taste. Blend with an immersion (stick) blender until smooth. Chill 2 hours or overnight. Each serving is about 1/2 cup.
Notes
This is creamy and delicious. Play with swapping cocoa for Crystal Light or Mio drops. Use your favorite liquid sweetener. We prefer a blend because the sweetener has a synergistic effect that allows you to use less for more and less is more, right? Try some concentrated stevia drops (NuNaturals or SweetLeaf are both great) and a little xylitol honey. Liquid sweetener will yield a silkier pudding.
Serving Ideas Serve with a hot cup of tea or black, unsweetened coffee.
Nutritional Information
Per Serving: 35 Calories; 1g Fat (27.3% calories from fat); 6g Protein; 2g Carbohydrate; 1g Dietary Fiber; 0mg Cholesterol; 1g Net Carbohydrate
http://www.fastdayshealingdays.com/fast-day-chocolate-protein-pudding/
Copyright © 2016 Fast Days Healing Days. All rights reserved.