Brown Gravy on Fast Days (FDs)? Get out of here! But that's exactly what Brian Hall of Fast Days Healing Days has developed for your gustatory pleasure. Goodbye dry meats, hello flavor for only 14 calories/tablespoon. What an intermittent fasting, alternate day (even 5:2) calorie bargain!
What do you do when you don't have enough meat drippings to form the foundation of a delicious brown gravy? As many of you realize, gravies (aka extra calories) aren't the first place you should spend time, when in the kitchen on a Fast Day (FD). Why? Because gravies and sauces may add flavor, but they are usually filled with extra calories and then food volume has to be cut to accommodate the extra calories. Fast Days Healing Days likes "big" food=lots of volume. (And yes, I prefer dude-food—which is hearty, non-wimpy, foods with robust flavor and filling-capacity. Just check out the Roast Beef With Ginger and Rosemary, Loaded Broccoli, or Beef Bourguignon if you doubt it.) The solution for the brown gravy, of course, was to come up with a brown gravy that carried a lot of BFTCB (Bang-For-The-Calorie-Buck). And I think it worked well. This brown gravy works on everything from roasts to chicken and poultry (think Thanksgiving Turkey Gravy) and even on things such as Japanese Korokke from our sister-site, Fluffy Chix Cook Japanese Korokke.
We used coconut flour (Bob's Red Mill preferred) and oat fiber (which is different from oat flour or oat bran–much lower cal/lower carb), available online (just click on the links), to thicken the brown gravy. Coconut flour (Bob's) is now available on the flour isle of many grocery stores. If you don't have those flours, you can substitute thickeners such as arrowroot powder, chickpea flour, buckwheat flour, quinoa flour, or thicken it entirely with gums such as glucomannan, xanthan gum, or guar gum. Just revise the calories/carbs on your substitutions. By the way, the Korokke are low enough calorie (and of course low carb, keto, paleo/primal/diabetic-friendly) that you can enjoy them as part of a sensible Fast Day (FD) meal plan and add a salad such as Susie T's Avocado Blue (or Feta) Cheese Side Salad.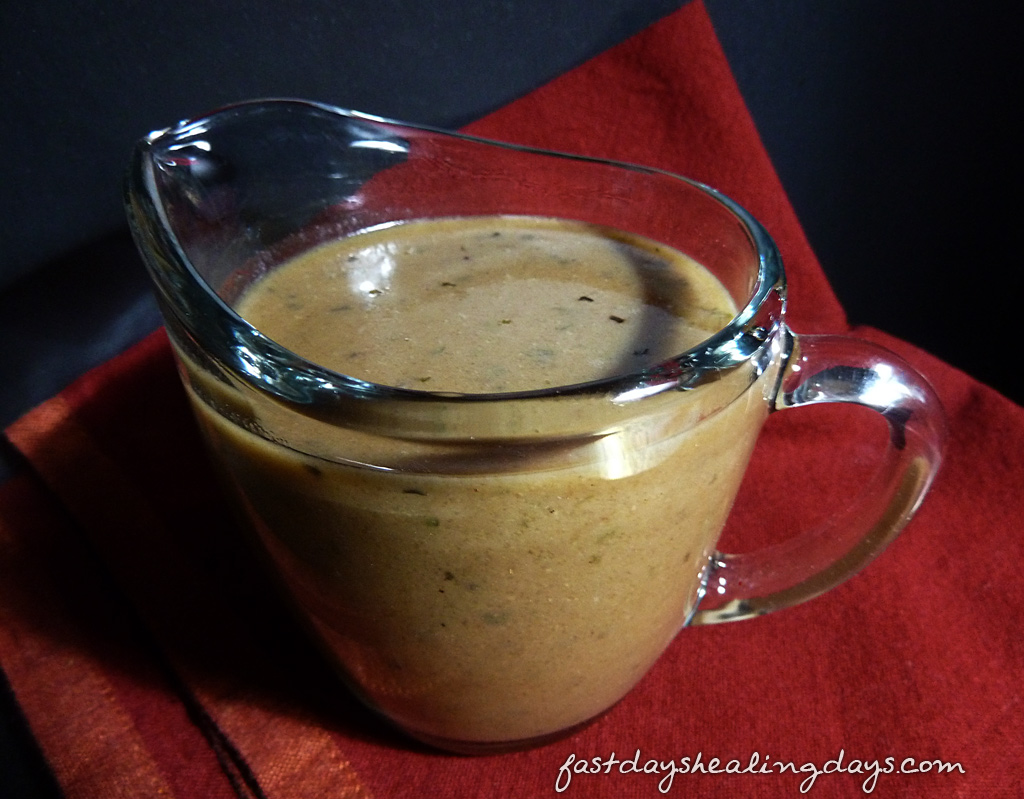 While not completely devoid of chemicals, this phony, brown gravy works well when you don't have the time to make true gravy from pan drippings. It's low in calories at 14 cals/tbsp., making it perfect for Fast Days (FDs).
Ingredients
2 tablespoons unsalted butter
2 tablespoons red onion
2 cloves garlic, peeled and chopped or pressed
2 tablespoons oat fiber—or 1-2 teaspoons arrowroot
1 tablespoon coconut flour (Bob's Red Mill)
2 cups low sodium beef broth, or defatted bone broth
1 cup water
1 tablespoon Better Than Bouillon Beef Base—or beef bouillon granules
1 tablespoon Italian parsley, chopped
1 pinch dried thyme
1/4 teaspoon onion powder
sea salt
black pepper
1/2 cup dry sherry—or dry vermouth
1 1/2 teaspoons glucomannan powder—or your favorite low calorie/low carb thickener
Instructions
In medium saucepan combine butter and onions. Sauté over medium heat until onions turn brown and are tender. Add garlic, oat fiber and coconut flour. Cook 2-3 minutes over medium heat to create a golden brown roux. Add broth, water, bouillon, Italian parsley, thyme, onion powder, kosher or sea salt and pepper. Add sherry and simmer sauce for about 10 minutes. Cook over medium heat stirring often to keep sauce from sticking. Cook until thickened. When sauce is about the thickness of a cream soup. Adjust salt and pepper. If sauce is too thin, whisk in glucomannan powder to desired thickness. If sauce is too thick, add more beef broth.

(Optional: If using arrowroot powder to replace oat fiber, Mix arrowroot into broth and shake to dissolve starch before adding to the melted butter and coconut flour mixture. Start with 1 teaspoon and be sure to add the nutrition info for the carbs/cals in arrowroot. Then follow the remaining recipe directions.)
Notes

Serving size is about 2-4 tablespoons. This makes a very credible brown sauce for Fast Days (FDs)—or any day. The recipe can be halved and will keep refrigerated up to a week. There is a bit of texture from the oat fiber and coconut flour, but it is still a really good brown gravy.

Servings Ideas Serve with your favorite meat, veggies or pasta substitutes. Great on oven fried foods such as Japanese Korokke and Oven Chicken Fried Steak.

Nutritional Information

Per Tablespoon: 14 Calories; 1g Fat (46.4% calories from fat); 1g Protein; 0.9g Carbohydrate; 0.5g Dietary Fiber; 2mg Cholesterol; 0.4g Net Carbohydrate

http://www.fastdayshealingdays.com/brown-gravy/

Copyright © 2016 Fast Days Healing Days. All rights reserved.

  Hope you will find this recipe useful and leave a comment to let us know how it turned out. Don't forget to be the first to share this recipe on Facebook, Twitter, and Pinterest.   Share Copyright © 2012 Fast Days Healing Days. All rights reserved.