Spring Zoodles
Do you crave light, low calorie and low carb pasta substitutes? Bikini season approaches. It's time to start thinking less about comfort food and more about light and fulfilling food that doesn't leave you weighted down. Join Susie T. of Fast Days Healing Days as she brings you a Fast Day (FD) friendly, keto meal that is perfectly paleo and primal, too. The lemon and fresh herbs in Spring Zoodles really make this plate, filled with delicious and nourishing veggies, with just a hint of extra virgin olive oil and zesty lemon juice, a satisfying light pasta replacement—perfect for Fast Days (FDs) or non-fast days, alike!
Spring brings out the desire for clean-eating. We overthrow the tyranny of comfort food and break-up with our casseroles in favor of clean, simply prepared veggies and proteins—barely dressed in come-hither hints of olive oil and freshly grated Parmesan or other flavor-packed aged cheeses. Lemon zest and freshly squeezed lemon juice take a top spot in the refrigerator and fresh herbs abound.
"Ain't" spring glorious? Bikini and shorts whether is here! And what better way to celebrate the arrival of Mrs. Robin and the pair of cardinals in your back yard than with a delightfully refreshing sping "pasta" dish.
What? Wha What? Pasta and bikinis do not naturally date each other. Have you been searching and searching for a 5:2 Fast Day or intermittent fasting-friendly spring pasta that fills you up without filling you out? Do you want a light and diet-friendly, naturally low calorie, nutritious pasta without a smidge of gluten?
Lucky for you, Fast Days Healing Days knows a thing or two about naturally low calorie, low carb, completely keto, paleo, primal and diabetic-friendly pasta.
We give you, the humble zucchini.
Zucchini makes dynamite noodles—no flour involved. Simply grate, spiral slice or zoodles the zucchini into gorgeous flowing strands of pasta-licious goodness and get that fork prepared to twirl, baby. Because it will twirl! It will twirl.
The quick clencher to bring out flavor in the Fast Day Spring Pasta is basically dry sautéing (cooking with only a spritz of olive oil cooking spray) the mushrooms until golden and delicious. The dry saute adds hearty, hearty flavor. It could get heavy tasting…but in walks the lemon zest, lemon juice and plenty of fresh herbs to save the moment. The result? Perfection and delight.
Hope you'll try out Spring Noodles, then come back and give your review! We love comments and feedback.
Want to learn more about the best zoodle or vegetable noodle maker for your next Fast Day "Pasta" meal?
Just click on the tabs below to see FDHD TOP 3 Zoodle Makers 
Would you like to know more about how to make zucchini noodles? FDHD recommends 3 tools for making veggie noodles, in this case, zoodles—or zucchini noodles. Two of the tools are cheap-as-chips, but all three zoodle or spiral slicers are low-tech and can fit almost everyone's budget. Click on each tab to learn more about selecting the right tool for the right job—making zoodling a snap!

Precision Kitchenware, Ultra Sharp Dual Julienne Peeler/Vegetable Peeler
A julienne peeler is the easiest and most economical way to zoodle your zucchini or create zucchini noodles. Julienne peelers are available in most kitchen stores or you can find them online at out trusted partner, Amazon.com. There are many types of julienne peelers on the market, but they are not created equal and price will somewhat determine the quality of the blade. The blade must be sharp and sturdy to withstand stress.
We recommend the Precision Kitchenware, Ultra Sharp Dual Julienne Peeler/Vegetable Peeler. The julienne peeler is sturdy, has a blade guard and gets a high score of 4 ½ out of 5 stars.
BUY NOW
A julienne peeler is versatile, working well on firm-fleshed veggies such as squashes (both summer and winter squash), cucumbers, daikon and other large radishes, root vegetables of all kinds such as sweet potato, rutabaga turnips, parsnips and carrots, and some fruit such as apples and pears.

Norpro Carrot Curler
Another low-tech tool is the Norpro Carrot Curler. You can read about FDHD's review here. We give it two hearty thumbs up! The Norpro Carrot Curler makes broad, graceful curls of any veggie with a small enough diameter to fit within its bevel slicer (or sharpener). It works just like a pencil sharpener. Turn the veg or the peeler and create long, graceful curls.
BUY NOW
Carrots, zucchinis, quarters of larger veggies like beets and daikon, turn out beautiful noodles. It's also super economical and available in many kitchen stores, but you'll probably have better luck buying online. Amazon.com also carries it.

Benriner Cook Helper Slicer
A zoodler, or spiral slicer, is a machine that uses a handle crank to power a twirling turnstile of veggies against a stationary specialty blade. It makes beautiful, thin noodles—rather like angel hair or linguine. We prefer the Benriner Cook Helper Slicer, even though it only has 2 blade selections and has a smaller vegetable clearance.
BUY NOW
We prefer it because it securely holds the veggies on the mount, vertically, and creates great noodles. It's also super-easy to clean and disassemble, taking less cabinet space. But it is more expensive. Available in cooking stores or online at Amazon.com, this is one gadget we're ga-ga over!
The Benriner spiral slicer works great on zucchini, yellow squash, some root veggies, beets, carrots and cucumbers. FDHD almost always uses the larger spiral slice blade, because the smaller blade makes noodles too fine to hold shape. We appreciate the sturdy plastics that make the stand and like the stainless blades that are very sharp!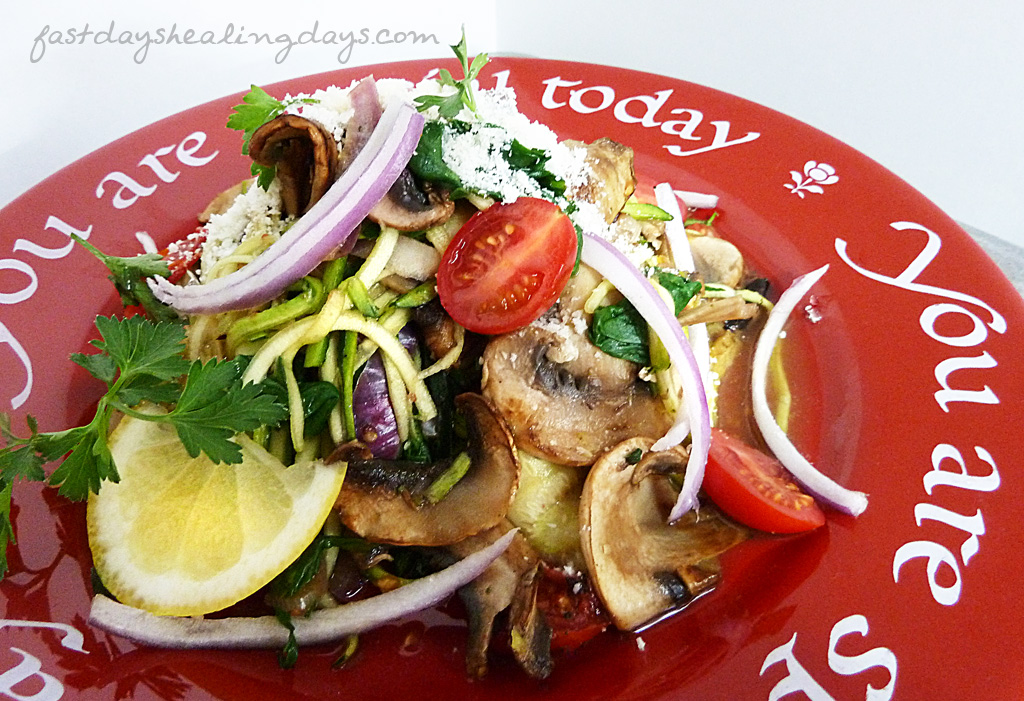 The lemon and fresh herbs in Spring Zoodles really make this plate, filled with delicious and nourishing veggies, just a hint of extra virgin olive oil and the lemon juice, a satisfying light pasta replacement—perfect for Fast Days (FDs) or non-fast days!
Ingredients
4 ounces mushroom, sliced thinly (about 1 1/2 cups)
8 ounces zucchini, zoodled (1 large)
1 ounce red onion, slivered (about 1/8 cup)
1 clove garlic, peeled and sliced thinly
1 teaspoon lemon zest
1 tablespoon Italian parsley, chopped
1 teaspoon fresh basil, sliced thinly in ribbons
1 cup organic super greens trio, (baby kale, chard, spinach)
1 ounce grape tomatoes, halved
1 tablespoon lemon juice, freshly squeezed
Instructions
In a nonstick skillet over medium high, heat pan with a bit of olive oil cooking spray. Cook mushrooms with a pinch of kosher or sea salt, about 2 minutes until dry roasted. Mushrooms will be brown and flavorful looking. There won't be any moisture left in the pan. Remove to a mixing bowl.

Add red onion, garlic, zucchini, lemon zest, parsley and basil. Sauté about 30 seconds. Remove from heat. Toss into bowl with mushrooms. Add super greens and tomatoes. Toss together and place on a place. Drizzle with lemon juice and olive oil and finish with Parmesan cheese.
Notes
Spring Zoodles makes a perfect light meal in less than 10 minutes. The lemon and herbs are the stars of the show, brightening the meaty caramelized mushrooms and adding liveliness to the great noodle texture of the zucchini and red onion. It's a perfect springtime meal!
Feel free to add more protein in order to bulk out the meal. More cheese would be great here: goat cheese, feta, additional Parmesan or Grano Padano, or add a serving of grilled chicken breast, shrimp, fish, scallops or your favorite seafood.
Serving Ideas Serve with a large glass of sparkling water with lemon.
Nutritional Information
Per Serving: 153 Calories; 6g Fat (31.6% calories from fat); 8g Protein; 22g Carbohydrate; 6g Dietary Fiber; 2mg Cholesterol; 16g Net Carbohydrate
http://www.fastdayshealingdays.com/spring-zoodles/
Copyright © 2016 Fast Days Healing Days. All rights reserved.