Brian Hall of Fast Days Healing Days shares great advice about white-knuckle dieting and how to remove deprivation from your 5:2 Fast Day, 4:3, ADF, EOD or JUDDD diet mentality. Remove the deprivation, increase the satisfaction and go to sleep knowing you've met your goals for the day. Learn how to make FUN food a priority on Fast Days, deprivation uninvited. Make Fast Day-friendly Psylli Bacon Nachos and put the FUN back in FUN-ctional.
Sometimes you get bored with "diets." That's part of the reason we choose to treat food as naturally as we can on Fast Days—because we're choosing not to diet. It is a lifestyle. And lifestyles aren't about living abstemious, monk-ish lives. No one lost weight through martyrdom (except the martyrs, of course). The point is, being a martyr and denying your craving or desire doesn't make you a more evolved person and doesn't atone for poor food choices in the past. And we all know that denial and deprivation will end you face down in the craving of your choice—at some point in the future (unless you are Wolverine or perhaps, Captain America). Just resolve right now. Come on. Do it. Resolve to end denial and deprivation. Eat real food and eat REAL GOOD food–to do that, you're going to have to learn to cook and that's where we can help.
So why not bend your food to YOUR will instead of trying to bend your will to some preconceived notion of what a diet-as-a-lifestyle means? At Fast Days Healing Days we believe the less deprivation, the better—especially on Fast Days!
We urge you. Go ahead. Play with your food. Interact with your food, naturally, on Fast Days. You want burgers? Have a burger! You want pizza? Here you go. Have pizza. You want nachos? We'll even throw on bacon, too! And be sure to check back with FDHD, because we will be adding more FUN foods to our Fun Foods Recipes on a regular basis. Do you have an idea for a FUN food, or need a recipe developed? Leave a comment describing your request and we will do our best!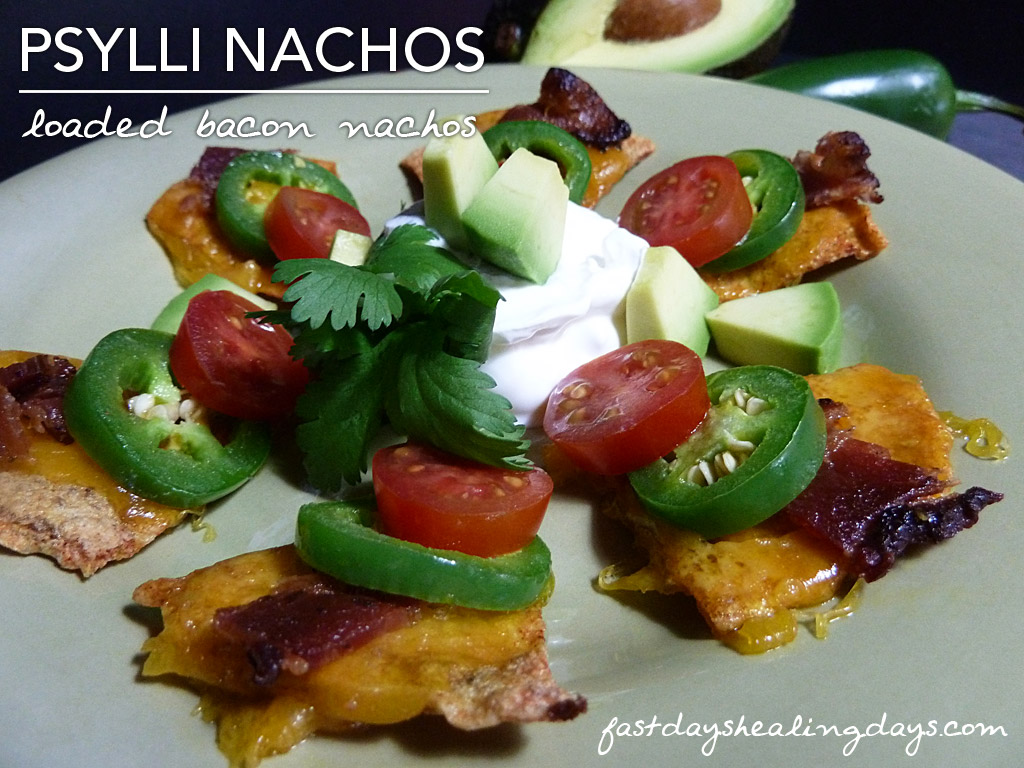 You wouldn't believe this could be so filling, but with great protein and good levels of healthy fats on top of fiber-rich Psylli Wraps, we urge you to try them! They are fun food with great nutrition.
Ingredients
1 ounce cheddar cheese, shredded
1 bacon slice, crisp, cut into 8 pieces
1 ounce avocado, cubed
1/2 ounce grape tomatoes, sliced into 6-8 rounds
2 tablespoons cilantro, leaves only
1/2 jalapeno chile pepper, sliced into 6-8 rounds with seeds
1 tablespoon sour cream
2 tablespoons non-fat Greek yogurt
Instructions
Take a Pyslli Wrap and cut into 6-8 wedges with a pizza cutter—or just use it whole to form a tostada. Microwave on a food safe paper towel for 45 seconds. Flip to the second side and nuke another 45 seconds. If it's still not crispy, nuke in 10 second intervals until very crisp. Remove and top with your favorite nacho toppings. Microwave until cheese is melty.

Finish with avocado, grape tomatoes, a pinch of sea salt, jalapeno and sour cream blended with Greek yogurt.
Notes
You can cut the Psylli Wraps into chips but we've found they shrink less when microwaved whole, then broken into chips or used as tostada or crispy tortilla shells. We always keep Psylli Wrap made up and ready in the refrigerator. They make convenient and fun meals!
Serving Ideas Serve on its own for a light meal with a big glass of hibiscus iced tea or make it a full meal with a cup of Quick Fiesta Soup.
Nutritional Information
Per Serving: 273 Calories; 19g Fat (61.8% calories from fat); 16g Protein; 10g Carbohydrate; 3g Dietary Fiber; 43mg Cholesterol; 7g Net Carbohydrate
http://www.fastdayshealingdays.com/psylli-bacon-nachos/
Copyright © 2016 Fast Days Healing Days. All rights reserved.
Copyright 2014 © Fast Days Healing Days. All rights reserved.