Where do you find a drool-worthy spice blend capable of breathing life into your dull, boring Fast Day (FD) meals without a bunch of cooking or hoopla? Do you want to know how to instantly introduce serious flavor to FD meats, fish, seafood and veggies? The easiest way to add serious flavor is to use a spice blend. But beware, all spice blends are not created equal. The spice blends at the store often travel with unwanted guests like sugar, msg, "natural flavors" and even sand! So find out what's so great about making your own Ras El Hanout (Moroccan Spice Blend) and why it sent Susie T. of Fast Days Healing Days into a tizzy of ecstasy! Learn how to make your own shop-keeper blend.
Have you ever fallen so in love with a spice blend that obsession ensued in 6.9 seconds? That's what happened with Fast Days Healing Days' Moroccan Spice Blend, aka Ras El Hanout (or head-of-shop spice blend). We made it, tasted it on one simple little chicken dish—then, "Boom! Baybeeeee!" We found ourselves rushing around the kitchen to find other things to tump its golden goodness upon—stat!
It began innocently. We'd been planning to have simple tacos. It was Tuesday. And everyone that's anyone knows, Tuesday Taco Night is sacrosanct and can't be messed with—really. I'm not lying. Tuesday Tacos is a chant, almost a mantra in our humble house. So what do ya do when a new spice blend challenges an old spice blend (our handy dandy Taco Seasoning Spice Blend)? You have a smack-down! That's what! We pitted the two spice blends against each other and omahgersh.
"Omahgersh!" I said!
Immediately after tasting the first Moroccan Lettuce Cup, Jesus wept. And then we started playing some weird Barry White tune like, "Baby, you're so fine…if lovin' you is wrong…I donnnwannnabeee right…" And then we had Moroccan spiced everything for the next seven days. (Now don't go thinking we broke up with our regular Tuesday Taco Meat…cuz we did not. We're just cheatin' on it a lil' bit. Just a lil' bit. Shhhhh, don't judge.)
The End.
Moroccan Lettuce Cups (aka Wraps)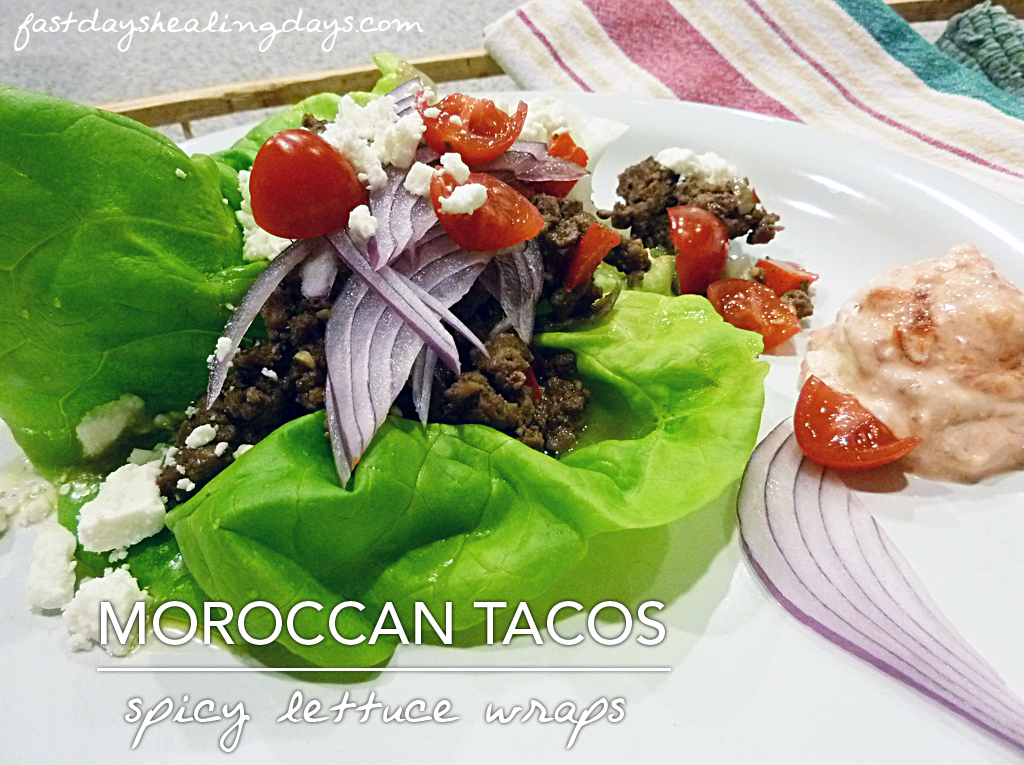 This is a Moroccan taco! It's so good, you'll want leftovers, so make plenty! The meat freezes and reheats like a champ and works in many other recipes as a Lucky Leftover.
Ingredients
Meat
1 pound extra lean ground turkey breast (Jennie-o)
1/2 medium red onion, chopped
1/2 medium red bell pepper, chopped
Lettuce Wraps
12 bibb lettuce leaves, washed and dried, whole
5 ounces grape tomatoes, quartered
1/2 cup red onion, chopped
1/2 cup cilantro, chopped
1 cup feta cheese
Harissa Sauce
1/2 cup Greek yogurt
Instructions
Combine meat ingredients in a large skillet. Cook over high heat until meat is brown and veggies are tender—about 8-10 minutes. Serve immediately.

Combine sambal oelek with Greek yogurt and stir to combine. Use as a topping for tacos.

Assemble tacos: Place 2 tablespoons of meat in each lettuce leaf (3 per person), add a spoon of any of these ingredients: chopped tomato, chopped red onion, cilantro, chopped avocado, and feta. Plop a dollop of Yogurt Sauce on top and call it dinner! So good!
Notes

This is a seriously delicious meal ready in minutes--especially when you have the Moroccan spice blend ready in the pantry. It's a simple as browning ground hamburger!

This tastes like exotic food. You don't taste the allspice, nor the nutmeg or cloves. You give overtones of cinnamon along with spicy cumin and coriander. It's just delicious. Hope you will try it!

Serving Ideas Serve these tacos as a stand-alone meal; 3 per person!

Nutritional Information

Per Serving (3 tacos): 319 Calories; 14g Fat (39.2% calories from fat); 36g Protein; 14g Carbohydrate; 3g Dietary Fiber; 100mg Cholesterol; 11g Net Carbohydrate

http://www.fastdayshealingdays.com/moroccan-lettuce-cups-aka-wraps/

Copyright © 2016 Fast Days Healing Days. All rights reserved.


Copyright © 2013 Fast Days Healing Days. All rights reserved.