Do you want quick and easy Fast Day (FD) meals and recipes? Do you despair over your Fast Day (FD) menus? Fast Days (FDs) don't have to be complicated–even if you do love cooking as much as Fast Days Healing Days. Join Susie T. with another quick and delicious side salad. Just add protein–or add a bowl of soup. Scramble a couple of eggs. Done!
We may not have an "easy button," like Staples, but here's one of our recipes that fits the description for Fast Day meals-in-minutes and non-fasting days, too. Have dinner on the table in under 15 minutes by making a simple pan-seared or grilled protein such as chicken breasts, fish, shrimp, lean burger meat or lean steaks—even center-cut pork chops and this crisp, refreshing salad. Don't fear the splash of extra virgin olive oil!
Fast Day Avocado Cucumber Tomato Salad works as great with soups, stews and casseroles as it does with lean protein. Don't have time to cook protein—even scrambled eggs? Then use prepared Rotisserie Chicken from the grocery store and call it a Fast Day meal worth eating.
Fast Day Avocado Cucumber Tomato Salad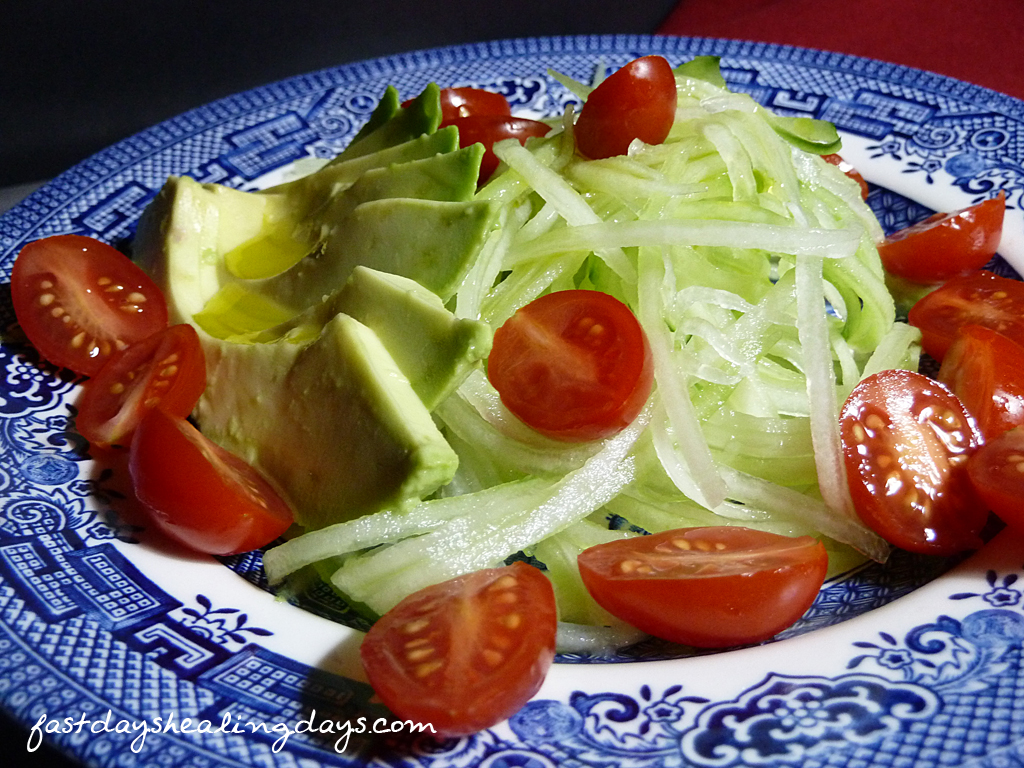 When you want easy, delicious and fast to get your Fast Days (FDs) going! Fast Day Avocado Cucumber Tomato Salad tastes fresh and crisp and only takes 5 minutes to make. Just add protein.
Ingredients
1/4 cucumber, zoodled
2 ounces grape tomatoes, halved
2 ounces avocado, sliced (about 1/4 avocado)
Instructions
You a spiral slicer or julienne peeler to make long thin strips of cucumber. Use English cucumbers for fewer seeds, or use garden cukes and cut until you reach the core, then rotate 90 and make the next cuts until you continue around the entire cuke.

Combine cucumber with grape tomatoes and avocado slices. Drizzle with your favorite vinegar and add a splash of extra virgin olive oil. We love coconut vinegar. Season with kosher or sea salt and fresh ground black pepper.
Notes
Combine this fresh and easy salad with your favorite protein. Makes a delicious meal in less than thirty minutes.
Serving Ideas Serve with your favorite lean protein.
Nutritional Information
Per Serving: 116 Calories; 9g Fat (62.4% calories from fat); 2g Protein; 10g Carbohydrate; 3g Dietary Fiber; 0mg Cholesterol; 7g Net Carbohydrate
http://www.fastdayshealingdays.com/fast-day-avocado-cucumber-tomato-salad/
Copyright © 2016 Fast Days Healing Days. All rights reserved.
Let us hear how you liked the recipe. Leave a comment at the top of the post or be the first to share with your friends.
Share
Copyright © 2012 Fast Days Healing Days. All rights reserved.